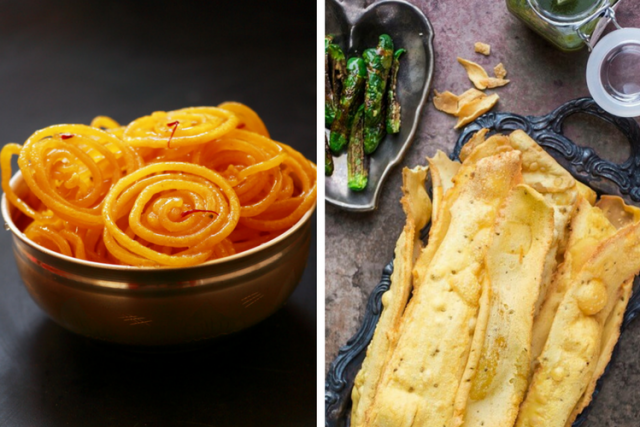 In Indian cuisine, Jalebi is something that doesn't need introduction. The crisp and juicy spiral-shaped sweet is deep fried in maida flour batter and soaked in sugar syrup. It is served either hot or cold. It is enjoyed not only in India, but also in Middle East and African regions.
 While it can be enjoyed anytime, hot jalebis are much relished during monsoons and even during revelries and festivals like eid. Besides, it is not mandatory to master the art of making the perfect, crisp, lightly sweetened delicacy; which can also be prepared at home.
 On the other hand, fafda is a traditional and popular Gujarati food; a fried crispy crunchy tasty snack perfect for tea time and made with besan or gram flour, garnished with carom seeds and black pepper. Although both are different as chalk and cheese, Gujarati folks usually are fond of having the two items simultaneously. In addition to that, the fafda jalebi combination is a gastronomic delight on occasions like Dussehra and Navratri.
Following is the recipe for making jalebis:
Ingredients:
Refined flour (1 cup)
Yogurt (1/2 cup)
Sugar (3 cups)
Milk (1 tbsp)
Few Saffron (kesar) strands
Ghee for deep-frying
Method:
Beat refined flour, yogurt and sufficient water to a smooth and pouring consistency batter in a big bowl. Keep it covered in a warm place to ferment for 24 hours.
Beat the batter again for 15 minutes. Cook sugar with 2 cups water in a deep non-stick pan on high heat, stirring continuously, till the sugar dissolves.
Add milk and when the layer reaches the top, collect it with a ladle and discard.
Add saffron and stir till the syrup reaches one string consistency. Keep the syrup warm. Heat sufficient ghee in a kadai on medium heat.
Pour some batter onto a jalebi cloth, gather the edges and make a tight potli.
Squeeze round spirals into the hot ghee and deep fry, turning them over gently a few times, till they are evenly golden and crisp.
Drain and soak in sugar syrup for 2-3 minutes. Take them out and serve hot.
Following is the recipe for making fafdas:
Ingredients:
Besan or chick-pea flour (2 cups)
Baking soda (1/4 tsp)
Ajwain (1/4 tsp)
Turmeric (1/4 tsp)
Oil (1 Tbsp)
Salt (1/2 tsp)
Method:
Mix the besan, soda, ajwain, haldi, oil and salt together
Add water and knead into a soft dough
Take a portion of the dough and place it on a greased surface
With base of your palm, drag the dough in a straight line, holding the dough at the starting point with the other hand; and thus forming a strip
Fry these strips over medium heat till crisp.