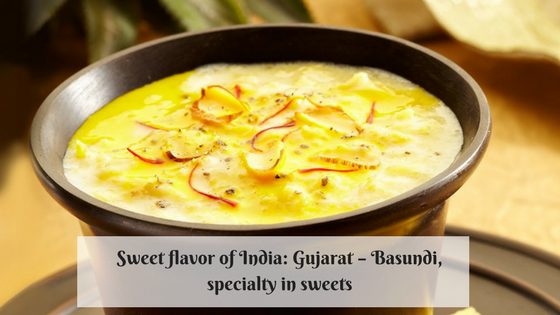 Basundi is a traditional Gujarati dessert made of sweet condensed milk and sugar, garnished with cardamom and nutmeg, with the addition of dry fruits. A total treat to taste buds, it is also popular in the adjoining regions of Maharashtra and Karnataka and is similar to the North Indian sweet item Rabri, with a slight difference in the texture and consistency.
It is generally served as a dessert or sweet accompaniment during festivals like Diwali and Bhaidooj. While it is served chilled and on its own, garnished with nuts, it can also be served along with puri as a complementary item. Moreover, there are many ways in which the sweet and creamy condensed milk can be relished. For instance, one can replace milk with basundi to make flavourful payasam, gajar halwa, kheer, and much more. Another option is to freeze it in freezer to make kulfi!
More importantly, it is also an absolutely healthy item to relish since it has a good content of proteins, fibre, calcium and vitamin B, C& D.
Here is the recipe for the very-easy-to-make basundi:
Ingredients:
Full fat milk (1litre), sugar (1/4 cup), cardamom powder (1 tsp), sliced almonds (5-7), sliced pistachios (4), kesar or saffron strands (4-5) for garnishing
Method:
Bring milk to a boil on a medium heat. Soak saffron in hot milk
Boil the milk for 5 to 7 minutes scraping off the cream from the sides and adding it back to the pot.
Keep stirring often to prevent burning
Add condensed milk and continue to boil on a medium heat until it reaches the desired consistency, which approximately takes about 8 to 10 minutes
Add saffron, nutmeg, cardamom powder and nuts
Simmer for a minute and turn off the gas
Transfer basundi to a serving bowl and refrigerate(optional)
Serve chilled or warm with nuts garnished